Business Cash Advance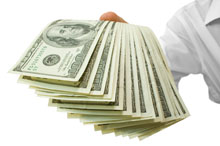 Providing Business Cash Advances through accounts receivable financing, utilizing your sales volume. This is not a loan, it is an upfront lump sum cash payment against your future merchant services and electronic payments.
As goods and services are purchased by your customers, a small percentage of each electronic payment is collected from one of our preferred processing banks.
Benefits of a Business Cash Advance
The Advance is NOT a Loan
A Cash Advance is not a loan; it is an upfront lump cash payment against your future sales collected through all electronic payments. Every day, a fixed percentage of your electronic payment sales are deducted until the advance is satisfied.


No Fixed Term or Minimum Payment
No checks to write, No maturity date and No Monthly Minimum Payment. Every day a fixed percentage of your electronic sales receipts are deducted until the pre determined payback amount is satisfied. We get paid as you get paid.


Funding in as little as 10 days
Approval is usually obtained within 24 hours once required documents are sent to underwriting. Cash is wired to your bank account 5 business days from the time the signed contracts are submitted.


Approvals on Poor Personal Credit
eCE™ Cash Advance is not credit score driven; therefore it is not necessary for you to have good credit to receive an advance. A poor credit ratings will not normally influence a cash advance decision.


No Personal Guarantee
There is no personal guarantee, joint guarantee, or severable guarantee required. The Advance will NOT show on Your Personal Credit Report and No Collateral is required.


Spend the Advance How You See Fit
Business Cash Advances can be used for a variety of business related purposes including regular operating expenses, meeting cash flow needs in off peak seasons and expanding your business. You are free to spend the money on whatever is best for your business.


Apply Now