ICVerify Single User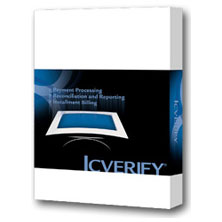 ICVERIFY® for Windows® Standard Edition is a comprehensive and cost-effective alternative to traditional Point-of-Sale (POS). equipment. Now you can use the power of your PC to manage your credit card acceptance through one of the best-known and most widely distributed software products on the market.
ICVERIFY Software is fully PA-DSS certified and listed on the PCI Security Standards Council website. ICVERIFY Software also includes a customer database for mail/telephone order merchants, recurring billing functions, the ability to process Internet and e-mail transactions, and the ability to support advanced configuration options including split-dial and IP credit card processing.
More Information
ICVerify Features
Triple DES and DUKPT PIN encryption and support
TransArmor® support
MICR check reader support
Contactless card reader support
Backward compatible Software Developer's Kit
Flexible SML, API and ActiveX OLE options
Built-in encryption library to enhance integrated system security
Ongoing association compliance enhancements
Support for Level II and Level III Visa and MasterCard purchasing card data
Support for Level II Corporate Purchasing Cards for American Express
Support for Windows® 2000, XP Home and Professional (Service Pack 3), Windows 2003 Server (Service Pack 1), Windows Vista (32- or 64-bit) or Windows 7 (32- or 64-bit)