Verifone PCCharge Payment Server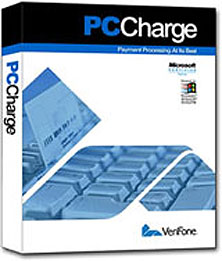 PCCharge Payment Server is a cost-effective PC based credit card processing software solution for all multi-lane stores, including traditional retailers, eCommerce merchants, restaurants, mailorder / telephone-order (MOTO) businesses, and self-service kiosk operations. Perfect for merchants who demand more from a pc based payment processing solution.
PCCharge Payment Server provides an intuitive graphical user interface and allows merchants to maintain a customer database, provides recurring / installment billing capability, allows for creation and maintenance of customer contracts, provides robust business-friendly reports, file import, historical receipt reprint, Book and Ship functionality for MOTO operations, and so much more.
More Information
PCCharge Payment Server Sales Sheet

PCCharge Payment Server Features & Benefits
Flexible
Merchants choose the payment processing network and communication method
Optional Graphical User Interface
Compatible with best-selling receipt printers and magnetic strip readers
Real-time or batch transaction processing


Robust Connectivity Options
Will work in a centralized WAN/LAN environment
Certified with multiple processors


Powerful
Supports multiple users/cashiers and multiple merchant accounts
Robust and customizable reporting features offer fullpage, formatted reports
Reduced check-out times with 3-5 second authorization times using Internet connectivity


Secure
Adheres to security guidelines set forth by the Payment Card Industry (PCIDSS) and is a Payment Application Best Practices (PABP) validated solution

Merchants using PABP validated payment applications are one step closer to reaching Visa Cardholder Information Security Program (CISP) compliance

User-level password protection provides controlled permissions

Comprehensive data file encryption including account number truncation and expiration date suppression


Integration
Comprehensive software development kit (PCCharge DevKit) is available to ease development and accelerate the integration process with third party applications

PCCharge DevKit includes (1) three hours of developer support (2) test copies of both PCCharge Pro and PCCharge Payment Server (3) code examples (4) gift card integration tools (5) test account information (6) manuals

Supports integration via OLE (COM), OCX / DLL (Active X), Socket, and File Methods