Verifone PCCharge Pro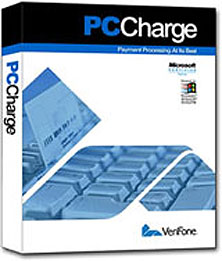 PCCharge Pro is a cost-effective PC based credit card processing software solution for all business types, including traditional retailers, eCommerce merchants, restaurants, mailorder / telephone-order (MOTO) businesses, and self-service kiosk operations. Perfect for merchants who demand more from a pc based payment processing solution.
PCCharge Pro provides an intuitive graphical user interface and allows merchants to maintain a customer database, provides recurring / installment billing capability, allows for creation and maintenance of customer contracts, provides robust business-friendly reports, file import, historical receipt reprint, Book and Ship functionality for MOTO operations, and so much more.
More Information
PCCharge Pro Features & Benefits
Easy to Use and Install
Process credit card payments on your computer via Windows®
Provides a setup wizard, online help and tutorials
Flexible
Merchants choose the payment processing network and communication method
Can be used out-of-the-box or as part of an integrated POS solution
Compatible with best-selling receipt printers and magnetic strip readers
Real-time or batch transaction processing
Powerful
Supports multiple users/cashiers and multiple merchant accounts
Robust and customizable reporting features offer fullpage, formatted reports
Reduced check-out times with 3-5 second authorization times using Internet connectivity


Secure
Adheres to security guidelines set forth by the Payment Card Industry (PCIDSS) and is a Payment Application Best Practices (PABP) validated solution

Merchants using PABP validated payment applications are one step closer to reaching Visa Cardholder Information Security Program (CISP) compliance

User-level password protection provides controlled permissions

Comprehensive data file encryption including account number truncation and expiration date suppression