Credit Card Services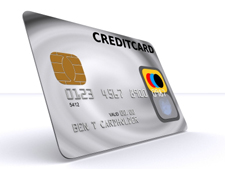 According to a study by Dunn and Bradstreet, consumers making a purchase with a credit card spent 12-18% on average more than they would spend with cash. So why wouldn't you have merchant credit card services? Your small or mid-size company can easily accept all credit cards, including Visa, MasterCard, American Express, and Discover, with Complete Merchant Services.
Credit Card Merchant Services
Credit Card merchant services allow online or storefront retail merchants to accept credit cards and receive money directly deposited into their business checking accounts.
Why Set Up a Merchant Services Account?
Accepting credit cards makes purchases easier for your patrons! Your customers can purchase from you more efficiently and securely; as mentioned above, you benefit from higher purchase amounts.


Would you buy something from a website that didn't accept credit cards? With our online credit card services your business and website gain credibility.


Establish your company. Even if you're a small merchant or even a start up, when you use our credit card services you are telling your customers that you have staying power, and that you're not some "fly by night" company using a PayPal account.


A merchant account eliminates the risk of bad checks. When you take checks, unless you are using a electronic check service you are not guaranteed payment, but with credit card merchant account services from Complete Merchant Services you immediately if the card is good.
Find Out More about Merchant Services
Learn for yourself why Complete Merchant Services is a leader in the credit card services industry. We are confident you can compare us to any of our competitors and we will come out on top. Call us today and find out how we become your true business partner with our merchant services.
Apply Now