Electonic Check Guarantee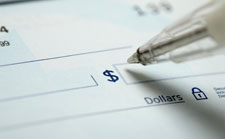 Electronic Check Guarantee, a unique service that specializes in the needs of small business and midsize retailers, we offer you two forms of Check Verification: Traditional Check Guarantee and Check by Phone / Internet Authorization.
Offer your customers the option to pay by check without having to worry about fraud and bad check fees.
Benefits of a Check Verification
Accept Checks similar to how you Accept Credit Cards.


No trips to your Bank, filling out deposit slips, and waiting in line.


Helps Eliminate Bank Deposit Fees for handling paper checks.


Faster Notification on Non Sufficient Funds (NSF) items.


Reduce Expense by spending less time on Account Receivables.


Increase Cash flow with Faster Access to Funds.


Less file storage space, all images are stored on our systems for 7 years.


Supported Transaction Types
Accounts Receivable Entry (ARC)
Automated Recurring Transactions
Back Office Conversion (BOC)
Batch File Upload
Check Drafting
Check Guarantee
Check Verification
Internet Checks
Point of Purchase (POP)
Represented Check Transactions (RCK)
Apply Now